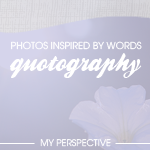 Hello and Happy New Year to all! Some of you are here because you have been directed here by Nicolasa from
My Perspective
. I will be temporarily hosting the "Quotography" weekly photo challenge for her. Nothing has changed, but for those who may be new and would like to participate in this fun weekly meme created exclusively by Nicolasa, here are the directions and rules:
1. Find a picture, or a quote and then pair it with a quote or a picture that applies to the weekly theme. (Picture MUST be taken by you).
This week's theme is: A New Year
.
2. Give credit to the quote when possible.
3. Put a link or the "Quotography" button in your post so others know what you're joining in on.
4. Link up here until Wednesday at 11:59 EST.
5. Take a moment to view other entries.
6. Posts selected as top 3 the week before can pick their top entry of the week and email me by clicking the e-mail button on my side bar by Thursday afternoon. I will select a post for anyone who doesn't get in touch with me.
7. Top 3 will be posted on Friday.
Please sign-up below: